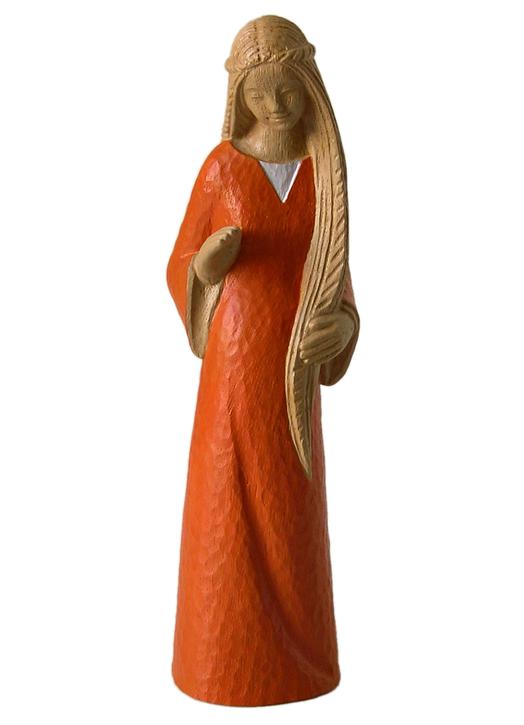 Statue of the Virgin Mary of waiting, 30 cm
Description Statue of the Virgin Mary of waiting, 30 cm
This Statue of the Blessed Virgin bears the name "Virgin Mary of the waiting", because the sculptor Yves Le Pape represented her pregnant as you can see it looking at the different images associated with this religious statue . There are about twenty religious statues in France dedicated to this theme. These statues of the Virgin Mary are also called Our Lady of Advent, Virgin of Advent or Virgin at birth. From the twelfth century we find religious statues dedicated to this theme pregnant Mary, but from the Council of Trent these representations have ceased.
This statue of the Virgin Mary of waiting symbolizes and recapitulates all the expectation of the human race starting with Adam and Eve, passing by the patriarchs, the saints of the Old Testament and ending with the Blessed Virgin, who according to the Fathers of the Church, by his love and his ardent desire, has forced God to anticipate the time of the Incarnation.

To offer a statue of the Holy Family as a wedding gift seems quite natural, but this statue of the Virgin Mary of the waiting may very well also be suitable as a gift for a wedding: waiting for a birth in a family is an important event, the internal dispositions of the wife are not without influence on the unborn child; this statue of Mary of the Waiting is like a protection for the mother and the child. This tutelary role of Mary is well symbolized by this statue of the Virgin and especially by the position of both hands.
The attitude taken from Mary shows that the Virgin's mind is occupied by the greatness of the mystery that lives in her: the growth of a new life, and a very special one, since it is the Son of God who was incarnated in his bosom by the operation of the Holy Spirit for the salvation of the human race.
Data sheet Statue of the Virgin Mary of waiting, 30 cm
Name of the product

Statue of the Virgin Mary of waiting, 30 cm

Manufacturer

Atelier du Regard

Material

reconstituted stone
Reviews
(0)

Statue of the Virgin Mary of waiting, 30 cm

No customer reviews for the moment.
In the same category
8 other products seleted for you