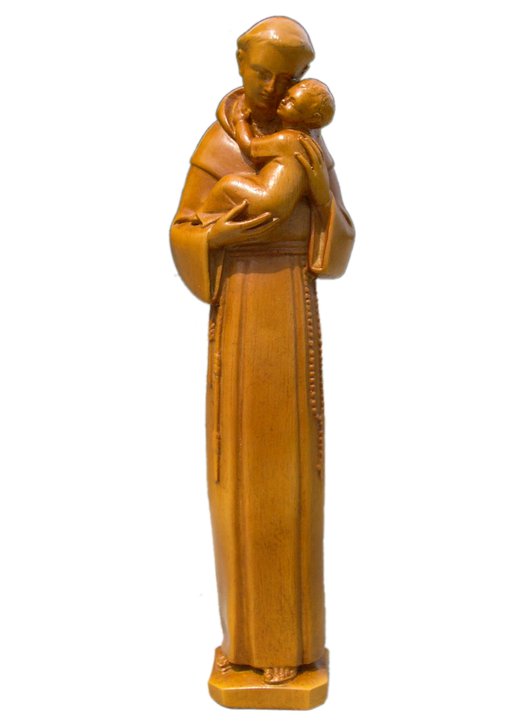 Statue of Saint Anthony of Padua, 20 cm
Description Statue of Saint Anthony of Padua, 20 cm
The sobriety of this statue of St. Anthony of Padua is in harmony with the spirit of poverty and simplicity of the Franciscans. Saint Anthony of Padua is a very popular saint because of his miracles and the power of his intercession to find lost objects.
He owes this power to find lost objects because of a miracle operated at Brive-la-Gaillarde where he found miraculously a manuscript that had been stolen.
On this statue we see Saint Anthony of Padua with the Child Jesus in his arms. It alludes to a famous miracle here. This happened a short time before the saint's death. He had retired to a hermitage where he could go at leisure to contemplation. One day when he was praying, Count Tiso, who had welcomed Saint Anthony of Padua on his estate, saw a great light in the saint's cell. He pushed the door lightly and saw the Child Jesus in the arms of St. Anthony of Padua all shining with light. It was only after the saint's death, according to his express request, that the count revealed the miraculous happening.
Saint Anthony of Padua was born in 1195 in Lisbon. He entered the Friars Minor in 1220. Consumed by the desire of martyrdom he embarked for North Africa but illness forced him to return to Europe. In 1221 he is present in the chapter of Assisi; and his brothers become aware of his rare talents as preacher and theologian. His life will now be dedicated to teaching and preaching. He is nicknamed the hammer of heresies because of the success he won against the heretics of the time, the Albigensians.
He died of exhaustion in Padua in 1231. He was 36 years old. He is a doctor of the Church.
Saint Anthony of Padua had the opportunity to meet Saint Francis of Assisi on three occasions:
- in 1221 in the chapter of mats at Assisi; it is the first time that Saint Anthony sees and listens to Saint Francis.
- In the chapter of Arles in 1226, St. Francis miraculously appears while St. Anthony is preaching to the brothers.
- the third time is an epistolary contact between 1223 and 1124. Saint Francis sends a short note to St. Anthony to give him permission to teach theology to the brothers, but he must be careful that it is not at the expense of the life of prayer.
Data sheet Statue of Saint Anthony of Padua, 20 cm
Name of the product

Statue of Saint Anthony of Padua, 20 cm

Manufacturer

Bacci SARL (FRANCE)
Reviews
(0)

Statue of Saint Anthony of Padua, 20 cm

No customer reviews for the moment.
In the same category
6 other products seleted for you