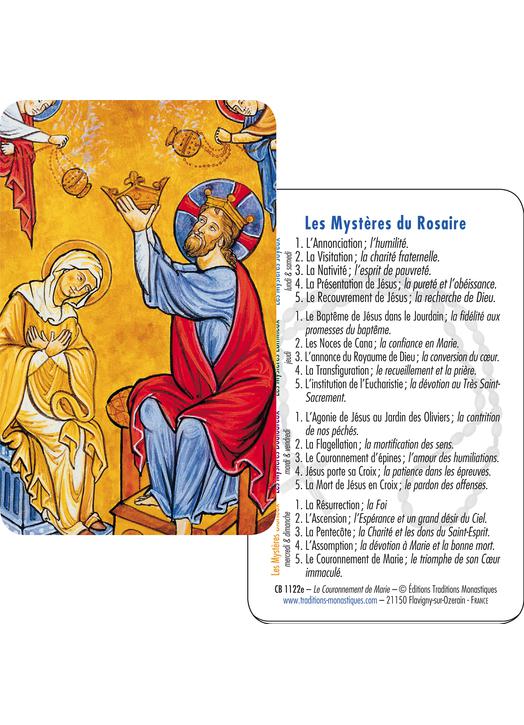 Carte-prière Le Couronnement de Marie
Description Carte-prière Le Couronnement de Marie
De la taille d'une carte bancaire, cette carte-prière représente Le Couronnement de Marie avec au dos les vingt mystères du Rosaire :

Les Mystères Joyeux (lundi & samedi) :

1. L'Annonciation; l'humilité.
2. La Visitation; la charité fraternelle.
3. La Nativité; l'esprit de pauvreté.
4. La Présentation de Jésus; la pureté et l'obéissance.
5. Le Recouvrement de Jésus; la recherche de Dieu.
Les Mystères Lumineux (jeudi) :
1. Le Baptême de Jésus dans le Jourdain; la fidélité aux promesses du baptême.
2. Les Noces de Cana; la confiance en Marie.
3. L'annonce du Royaume de Dieu; la conversion du cœur.
4. La Transfiguration; le recueillement et la prière.
5. L'institution de l'Eucharistie; la dévotion au Très Saint-Sacrement.
Les Mystères Douloureux (mardi & vendredi) :
1. L'Agonie de Jésus au Jardin des Oliviers; la contrition de nos péchés.
2. La Flagellation; la mortification des sens.
3. Le Couronnement d'épines; l'amour des humiliations.
4. Jésus porte sa Croix; la patience dans les épreuves.
5. La Mort de Jésus en Croix; le pardon des offenses.
Les Mystères Glorieux (mercredi & dimanche) :
1. La Résurrection; la Foi.
2. L'Ascension; l'Espérance et un grand désir du Ciel.
3. La Pentecôte; la Charité et les dons du Saint-Esprit.
4. L'Assomption; la dévotion à Marie et la bonne mort.
5. Le Couronnement de Marie; le triomphe de son Cœur immaculé.
A partir de 500 exemplaires (soit 10 paquets de 50), vous pouvez bénéficier d'un prix dégressif : nous contacter.
Data sheet Carte-prière Le Couronnement de Marie
Name of the product

Card-prayer Coronation of the Blessed Virgin

Editor

Traditions Monastiques

Material

Carte pelliculée
Reviews
(0)

Carte-prière Le Couronnement de Marie

No customer reviews for the moment.
In the same category
16 other products seleted for you