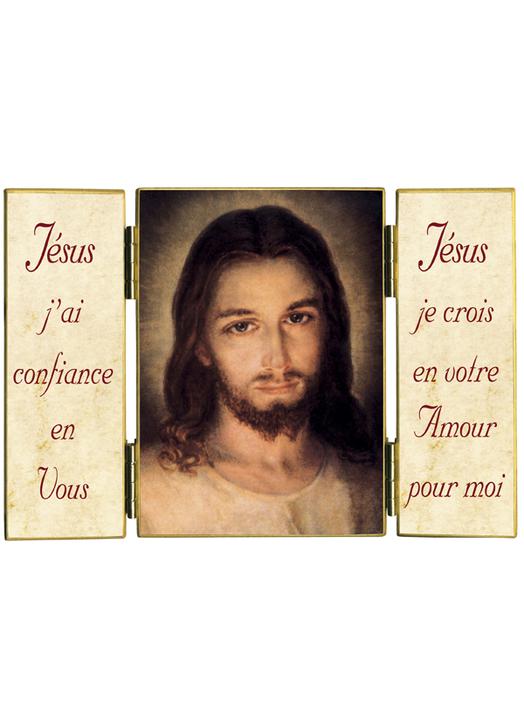 Triptych of the face of Jesus with invocations of confidence
Description Triptych of the face of Jesus with invocations of confidence
This religious triptych represents the face of Jesus Mercy of Krakow. This painting was made in 1943 by the painter Adolph Hyla ex-voto for escaping a roundup organized by the Gestapo in the streets of Krakow. He made the same painting two time, because the first one could not find room enough in the chapel of the Sisters of Our Lady of Mercy. This painting is currently on the same altar where were placed the relics of St. Faustina Kowalska who was canonized in 2000 by St. John Paul II.
On this religious icon, unlike in the first painting, the one of Vilnius, Jesus looks at us. Even if we may not like the aestheticism of this face, we can nonetheless consider that this look of Jesus contains a whole teaching. Jesus poses on each of us a really personal look as unique as if we were alone in the world. He wants with all of us to establish a loving relationship for all eternity, although he is infinitely happy and does not need us. However it is the characteristic of the infinite Love to freely irradiate love. He wants to be loved and loved for our own sake.
On the side panels we added two sentences the kind of which enable us to answer this call of love that throws the look of Jesus:
- "Jesus, I trust you" is the phrase that Christ asked Sister Faustina to put at the bottom of the board. Trust presupposes love, humility and the other two theological virtues of faith and hope.
- "Jesus, I believe in Your love for me", this love he proved by his painful Passion that he would still have suffered if I was the only beneficiary, because his love for me is infinite. And everyone can say it for oneself.

A category has been created in our Christian shop that contains all the religious objects that have the theme of Jesus Mercy of Sister Faustina. You can view this page by choosing the menu "Religious Themes - Jesus Mercy of Saint Faustine" or by clicking here: Jesus-Mercy of Saint Faustina

On each product sheet you will find information about this devotion and the different practices in honor of Jesus Mercy, on the history of the two paintings of Vilnius and Krakow.
Data sheet Triptych of the face of Jesus with invocations of confidence
Name of the product

Triptych of the face of Jesus with invocations of confidence

Dimension

open : 22 cm x 15 cm closed : 11,5 cm x 15 cm

Manufacturer

Traditions Monastiques (FRANCE)

Central pannel

Icon of Merciful Jesus (face)

Lateral pannels

invocations of trust and love
You might also like Triptych of the face of Jesus with invocations of confidence
1 other product seleted for you
Reviews
(0)

Triptych of the face of Jesus with invocations of confidence

No customer reviews for the moment.
In the same category
16 other products seleted for you