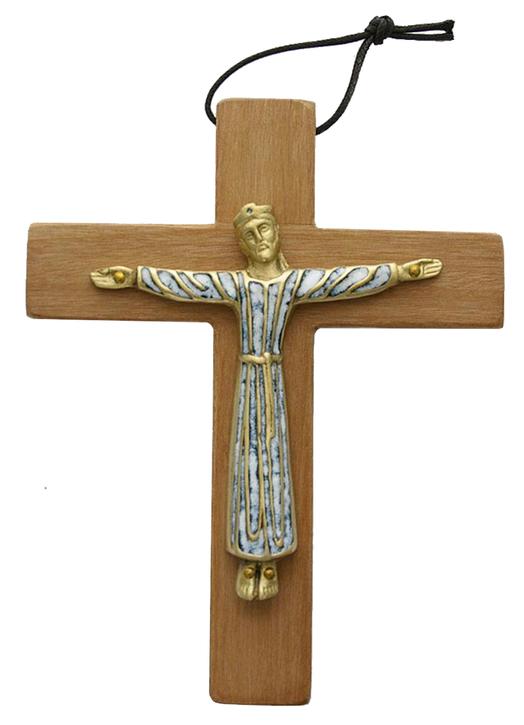 Christ enamelled bronze dress mounted on wood - 19 cm
Description Christ enamelled bronze dress mounted on wood - 19 cm
This magnificent crucifix, which you can offer as a gift for a first communion, is made in an art style of the Middle Ages. This crucifix is surprising at first glance because Christ is wearing a tunic, contrary to the historical truth, because in the Gospel it is well written that Jesus was stripped of his clothes. Moreover it is not the only paradox of this crucifix. The very position of Jesus gives rise to astonishment: the arms are perfectly horizontal, which is unrealistic; on the other hand, Christ appears impassive, insensitive to suffering, and instead of a crown of thorns, Christ is crowned with a royal diadem. This way of representing Christ on the cross is not at all to be understood as a negation of the reality of passion. But it is one of the characteristics of the art of the Middle Ages, which, in its representations, attaches more to the symbolic aspect than to represent the sensible reality.
Thus, this Crucifix represents Christ, the triumphant Christ, the risen Christ. The cross, despite appearances, is a victory, victory over death, victory over sin, victory over hate. It is by the cross that Christ reigns over the world.
This somewhat paradoxical representation should not make us despise the crucifixes where Christ is represented suffering or dead. The Christian mystery is so rich that it is not possible to bring out all the facets in a single work of art. Let's appreciate the value of each. Here, instead of stopping at the lack of realism of this crucifix, let us help from these different paradoxes mentioned above, to engrave in our soul the message it wants to convey: the cross is not an end but the the beginning of a triumph and if we suffer with Christ, if we carry our cross following Christ we will reign with Him. In moments of great trials this crucifix can help us to keep hope.
This crucifix is an ideal gift for a communion or profession of faith; enamelled bronze, this Christ will resist the wear of time.
Data sheet Christ enamelled bronze dress mounted on wood - 19 cm
Name of the product

Christ enamelled bronze dress mounted on wood - 19 cm

Material

Enamelled bronze
Reviews
(0)

Christ enamelled bronze dress mounted on wood - 19 cm

No customer reviews for the moment.
In the same category
16 other products seleted for you