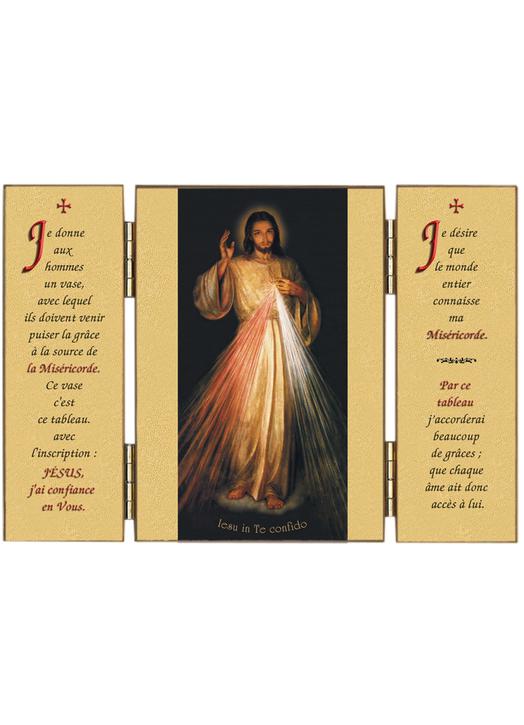 Merciful Christ - words of our Lord
Description Merciful Christ - words of our Lord
The same triptych with the texts in English: TRT3123
Le même triptyque avec les textes en flamand : TRT5123
El mismo tríptico con los textos en español : TRT7123
Data sheet Merciful Christ - words of our Lord
Author

painted according to a vision of St. Faustina (1931)

Name of the product

Merciful Christ - words of our Lord

Dimension

open : 22 cm x 15 cm closed : 11,5 cm x 15 cm

Manufacturer

Traditions Monastiques (FRANCE)

Central pannel

the Merciful Christ with the Latin inscription : « Iesu in Te confido »

Right pannel

Je désire que le monde entier connaisse ma Miséricorde.
Par ce tableau j'accorderai beaucoup de grâces ; que chaque âme ait donc accès à lui.

Left pannel

Je donne aux hommes un vase, avec lequel ils doivent venir puiser la grâce à la source de la miséricorde. Ce vase, c'est ce tableau, avec l'inscription:
Jésus, j'ai confiance en Vous.

Lateral pannels

words of Our Lord to St. Faustina about the painting.
You might also like Merciful Christ - words of our Lord
2 other products seleted for you
Incense burner

Material : varnished brass - Dimension : Height 11,5 cm X width 11,5

Reference: BREN710

(0)

'oil lamp'

Reference: LHB

(0)
Reviews
(0)

Merciful Christ - words of our Lord

No customer reviews for the moment.
In the same category
16 other products seleted for you