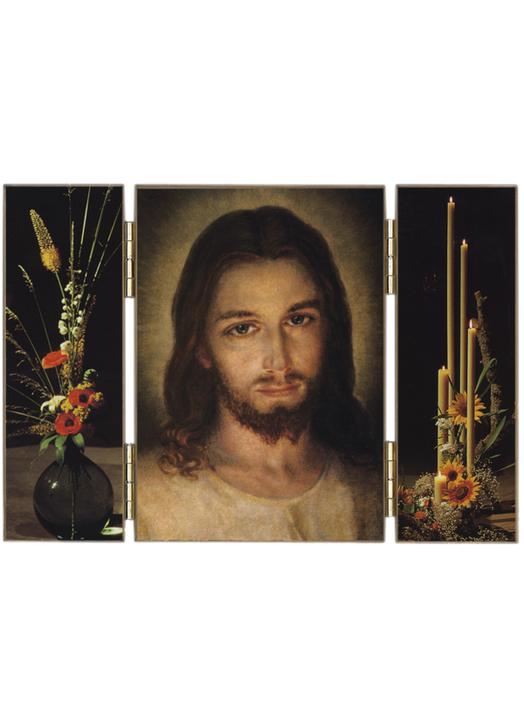 Jesus the Merciful (St Faustina) with Floral design
Description Jesus the Merciful (St Faustina) with Floral design
This religious triptych represents a detail of the Jesus Mercy that Saint Faustina Kowalska had painted on the very request of Jesus. It was in 1931 that Jesus made this request, but it was not until 1934 that the first painting was made according to the precise indications of Sister Faustina. This painting is currently in Vilnius. The face we present on this religious object does not come from this first painting but from the second or third one which was made by Adolph Hyla in 1943. It is currently in the church of the Sisters of Our Lady of Mercy in Krakow. One of the big differences between these two paintings concern Jesus's look. In the picture of Vilnius Christ has his eyes lowered while in that of Krakow Christ looks at us.
This Face of the icon of Jesus Mercy which has been chosen as the central panel for this religious object is an invitation to realize that Christ poses on each of us a unique and personal look, a look of Love. He knows us personally and has conceived for each one a unique project of love. This love which Christ bear to me is such an infinite one that if he had to relive his Passion for me alone, he would do it again. If his Passion had been useful only for me alone, he gladly would have accepted it anyway. And even more: if it had been necessary to suffer as many passions as there will be men, he would have done it. This is infinite love ... This look is therefore a call to love, to render love for love.

We have several religious objects dedicated to Sister Faustina's Jesus Mercy, we have all gathered them in a category dedicated to this theme; it is accessible in the menu "Religious Themes -> Jesus Mercy of Saint Faustina" or by clicking here: Jesus-Mercy of Saint Faustina

On each product sheet you will find information about this devotion, about the history of the two paintings of Vilnius and Krakow, about the different devotional practices in honor of Jesus Mercy.
Data sheet Jesus the Merciful (St Faustina) with Floral design
Name of the product

Jesus the Merciful (St Faustina) with Floral design

Dimension

open : 22 cm x 15 cm closed : 11,5 cm x 15 cm

Manufacturer

Traditions Monastiques (FRANCE)

Central pannel

Icon of Merciful Jesus (face)

Lateral pannels

Floral design
You might also like Jesus the Merciful (St Faustina) with Floral design
1 other product seleted for you
Reviews
(0)

Jesus the Merciful (St Faustina) with Floral design

No customer reviews for the moment.
In the same category
16 other products seleted for you