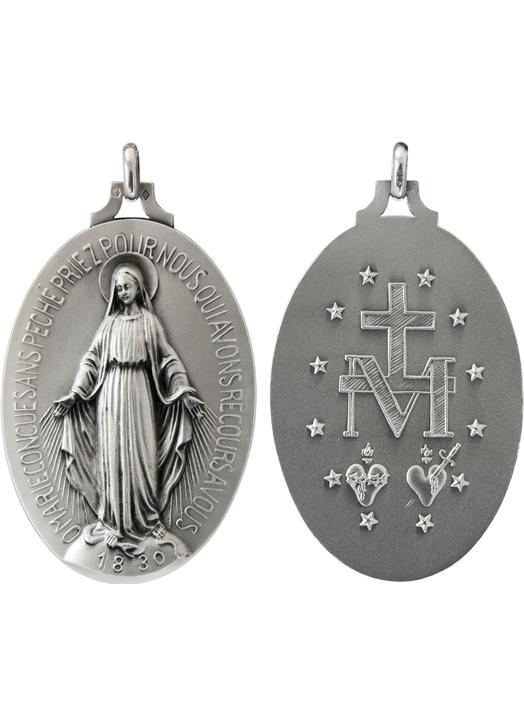 Miraculous medal, sterling silver - 50 mm
Data sheet Miraculous medal, sterling silver - 50 mm
Name of the product

Miraculous medal, sterling silver - 50 mm

Manufacturer

Pichard-Balme (FRANCE)

Material

sterling silver 925/1000
You might also like Miraculous medal, sterling silver - 50 mm
5 other products seleted for you
Reviews
(3)

Miraculous medal, sterling silver - 50 mm
M paul




févr. 12, 2021




Miraculous Medal 50mm

I received my medal this morning, a mere few days after ordering. The matte finish to the medal is beautiful, ensuring easy cleaning.
In my view, this is THE finest Miraculous Medal that Catholics can wear. That the inscription is in French is particularly relevant to me. I would like to thank the monks for their prompt and efficient service.
Christina Dameyer




avril 28, 2019




50mm Sterling Silver Miraculous Medal

Yes, the Pichard-Balme is the only medal which looks right to me. Even the Shrine of the Miraculous Medal on the rue du Bac changed their style from this to a terrible modern looking depiction of Our Lady : it's appalling. Many other versions one finds elsewhere today are nowhere near as elegant as this graceful rendering of Our Lady with excellent detail and obvious grace emitted. Thank goodness that Pichard-Balme is still producing these, and the Saint-Joseph de Clairval Monks are making them available ; they are dispatched immediately from the Abbey and arrive surprisingly quickly to anywhere in the U.S.

Another aspect extremely important to me is having the inscription which Our Lady requested written in French, rather than in English as only offered by so many other websites. Only the French wording feels correct.

This particular size, because it is large [ 2 inches ] and Sterling Silver, has a more powerful spiritual presence. By the way, this medal looks much better in reality than can be seen from the pictures. It also is much heavier than one expects. This 2 inch medal feels strong and solid ; one won't be apt to lose it like the small size, lightweight medals. I attached this medal to my keychains [ now car keys can't get lost ! ].

I even put one of these on the top of my computer to ward off the darkness coming across the internet.




Kevin Navarro




mars 28, 2019




Miraculous Medal 50mm SS

I love this Miraculous Medal, Pichard-Balme has the best rendition of the medal
In the same category
16 other products seleted for you