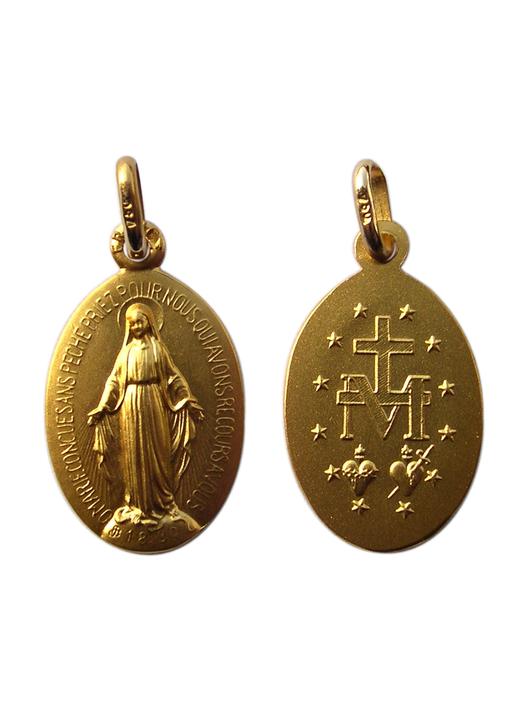 Miraculous medal, solid gold - 17 mm
Data sheet Miraculous medal, solid gold - 17 mm
Name of the product

Miraculous medal, solid gold - 17 mm

Manufacturer

Pichard-Balme (FRANCE)

Material

solid gold 18 carat - 750/1000
You might also like Miraculous medal, solid gold - 17 mm
3 other products seleted for you
Reviews
(4)

Miraculous medal, solid gold - 17 mm
L Julius




févr. 25, 2019




Very beautiful Miraculous Medal!

Pleasantly surprised with the super speedy shipping. Arrived in only 5 days after purchase date, considering the distance on where I currently live (Singapore).
The priest is very kind to have the medal blessed as requested.

The medal is in matte finish and as described, 18mm top-down oval size (excluding the outer ring). It is a humble yet elegant presentation every time I looked at it, very beautiful! I am very grateful with Traditions Monastiques on making this masterpiece available online and worldwide. The design and details of this Miraculous Medal is following the very original design by Adrien Vachette in 1832, and that's what really captivates me for such design still available today.

Been waiting and gathering my strength for years to be able on purchasing a high quality medal to honor and remember the Blessed Virgin Mary as my ever intercessor; so I'm thanking God, Mother Mary and the abbots for providing me a chance in my life to earn this blessed, high quality medal. :)

P K




mars 16, 2018




The most beautiful Miraculous Medal I've ever seen!

I have just received this medal and I am very happy with it! It truly is massive solid gold medal, but very refined and delicate. And the most important is that the portret of Our Lady is very well made, absolutely beautiful. It is a more traditional portret of Virgin Mary which I appreciate very much. Whoever made this portret, made it with love and devotion.
I wear this medal with a 45 cm chain. I find it to be the best chain size.
The package came very fast. I ordered it on Monday and it came on Friday (I live in Holland).
The medal came in a beautiful jewelry box. I also received a beautiful card with the picture of Our Lord Jesus Christ and also a description and history of the medal on a sheet of paper.
I will treasure this beautiful medal for the rest of my life.
Dear Traditions Monastiques, thank you very much!
JB




août 31, 2016




Very high quality!

I've looked at various websites for an 18k gold Miraculous Medal. I noticed that most of the medals on the market are only 10k or 14k gold. There was only one other online retailer that sold an 18k gold Miraculous Medal. However, I liked the design of this medal better so I purchased this one. I was impressed with the shipping speed to Canada. The monks are also very responsive and were kind enough to bless the medals I purchased before shipping them to me.
D C




févr. 28, 2015




The very best Medal anywhere !

I searched for literally months to find a French Miraculous Medal with a tasteful engraving of Our Lady.

Finally, I found it here !

Many of the medals produced in this era are not as beautiful as She should be depicted. This is by far the most exquisite rendering of Our Lady and the medal most pleasing to the eye.

Then, too, why buy from a jeweler or an internet shopping service when you can give needed support to a vibrant Benedictine monastery ?!
Monks and nuns are the lifeblood of the Church. Why not help them out - ??
In return they will pray for one's intentions, a valuable assistance not possible when one purchases from any secular source.

The Solid Gold medal is worth the extra expense because it is - I believe - MUCH stronger in protecting its wearer against the Devil - and malicious people.
In the same category
16 other products seleted for you