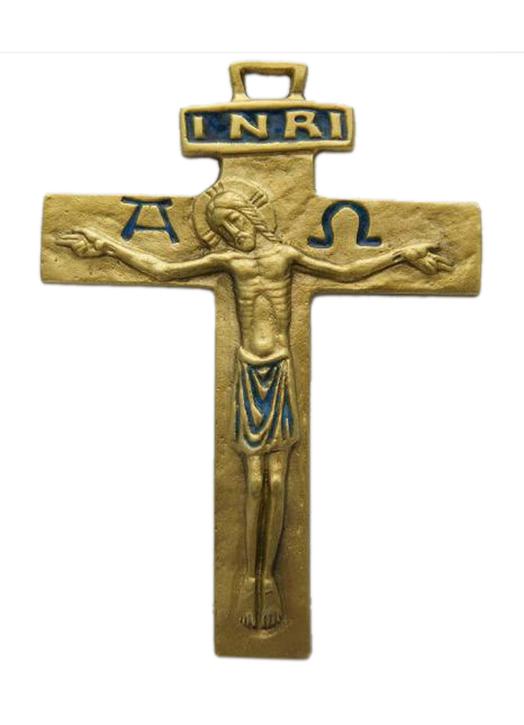 Bronze crucifix enamelled Alpha and Omega - 13 cm
Description Bronze crucifix enamelled Alpha and Omega - 13 cm
If you are looking for a gift idea for a first communion or a solemn profession, this bronze crucifix may be suitable. Bronze is an alloy of copper and tin which has the property of a good resistance to wear. Bronze is also called brass; it is the name used in the Bible. This material ensures a long life to this religious object. It can however be easily damaged by falls or knocks. This bronze wall crucifix is equipped at the top with a hole that allows to fix it on the wall with a simple nail.
The colorful parts of this wall crucifix are enamels of excellent quality that do not fear the injuries of time.
The four letters above the head of Christ are the initials of Jesus nazareus, Rex Judaeorum, in vernacular: Jesus of Nazareth, King of the Jews. It is the inscription which Pontius Pilate had ordered to be fixed on the cross and which recalled the cause of his condemnation. The gospel says that this inscription was written as well in Hebrew and Greek.
The two Greek letters Alpha and Omega, are the first and last of the Greek alphabet. This symbolism means that Christ is the beginning and the end of all things, or according to the apocalypse, He is the first and the last.
Christ seems to rest on the cross as on a bed. The artist has represented the dead Savior, but he seems rather asleep. For Christ we can truly say that death is a sleep since by his own divine nature he rose again on the third day. When, Good Friday at three o'clock in the afternoon, Christ give up the ghost, his soul separated from his body, for Christ is truly dead, nevertheless his divinity remained united on the one hand to the soul of Christ and on the other hand to the dead body of Christ. We are before an abyss of mystery: how God, in the person of the Word, could be united to a dead body even for only a few hours?
Data sheet Bronze crucifix enamelled Alpha and Omega - 13 cm
Name of the product

Bronze crucifix enamelled Alpha and Omega - 13 cm

Material

Enamelled bronze
Reviews
(0)

Bronze crucifix enamelled Alpha and Omega - 13 cm

No customer reviews for the moment.
In the same category
10 other products seleted for you