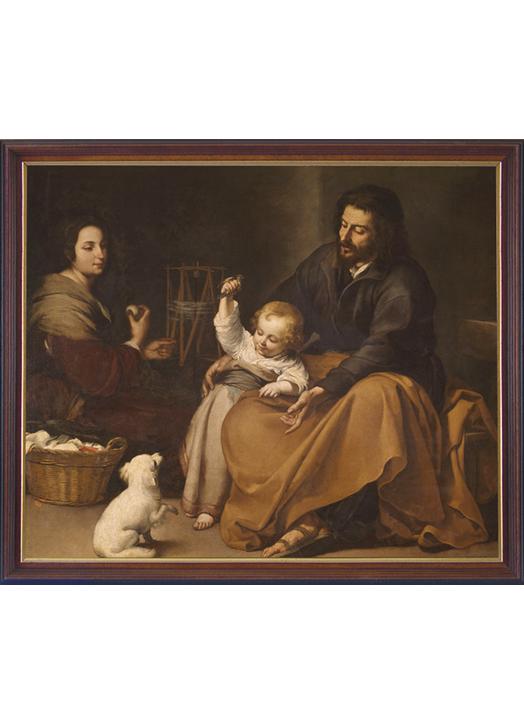 The Holy Family with the fledgling
Combinations
Characteristics
Reference
Price
Add to cart

Size : CADRETS (60 x 51 cm) - wooden frame with golden streak (width of molding: 3.8 cm)


Reference : CADRETS5683

CADRETS (60 x 51 cm) - wooden frame with golden streak (width of molding: 3.8 cm)

CADRETS5683

€196.50 TTC

€196.50 TTC

Size : CADREG (33 x 28 cm) -


Reference : CADREG5683

CADREG (33 x 28 cm) -

CADREG5683

€108.00 TTC

€108.00 TTC
Description The Holy Family with the fledgling
The main topic of this painting is the three characters Jesus, Mary and Joseph. The decor, also very sober, is there to remind us that Saint Joseph was a carpenter and that Marie took on the housework of the women of his time. Here we see her spinning and a basket at her feet tells us that she was engaged in sewing. This painting of the Holy Family emphasizes the human aspect of the incarnation. Jesus is truly a man, he had a father and a mother, and he lived in a human family where love united the three people closely.
The Child Jesus holds in his hand a young bird that he keep safe of the carnivorous ardor of the little dog. This charming scene reminds us that Christ came to earth to deliver us from the sin and claws of Satan. The position of the Child leaning on Saint Joseph's leg is full of charm and simplicity. It indicates the confidence of Jesus towards his foster father and the right hand of Saint Joseph manifests a complicity between them.
Mary's smile also attracts attention; Mary does not participate in the action but she is a mere spectator; arrested in her activity, she is very attentive to the slightest gestures of the child; it invites us to habitually look at Christ so that he is truly at the center of our lives. Mary's gaze invites us to go beyond the humanity of Jesus to the supernatural dimension of the person of Jesus who is the person of the Son of God by nature and who has assumed a complete human nature for our salvation.

The original of this icon of the Holy Family has been made between 1645 and 1650 by the Spanish Baroque painter Bartolomeo Esteban Murillo. It is an oil on canvas of 56,7 by 74 inches. This painting is currently kept in the Prado Museum in Madrid.
Bartolomeo Esteban Murillo was born in Seville in 1617 or 1618 and died in the same city on April 3, 1682.
Murillo has produced mainly religious works, but he is also known for his genre paintings, including portraits of women and especially poor children including a "Young beggar" preserved in the Louvre. The "Madonnas" that he realized, gave him immense success.
Genre painting is a type of work that features anecdotal or familiar scenes. This genre is quite low in the hierarchy of genres but it was brought to a point of perfection in the seventeenth century by Caravaggio.
--------------------

The icon is provided with a hole on the back, so they are easily fixable to a wall. This hole is notched to facilitate its centering. The icons may also be displayed on an easel.
Data sheet The Holy Family with the fledgling
Name of the product

The Holy Family with the fledgling

lieu

Museum of Prado, Madrid
Reviews
(0)

The Holy Family with the fledgling

No customer reviews for the moment.
In the same category
16 other products seleted for you