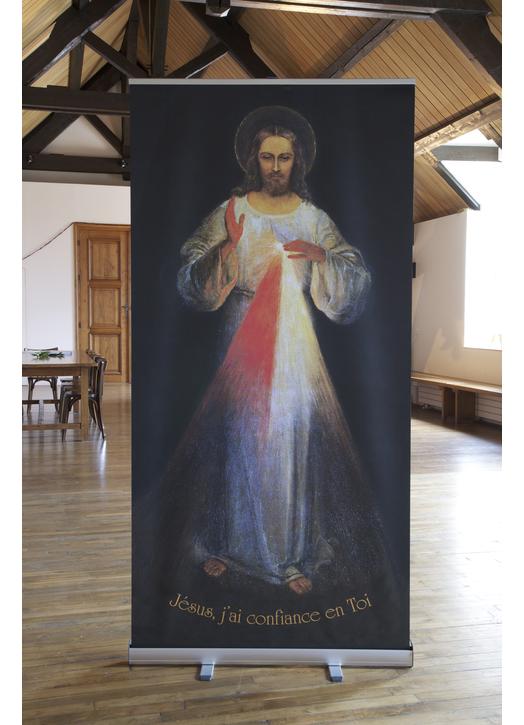 Roll-up of the icon of Merciful Jesus of Vilnius
Description Roll-up of the icon of Merciful Jesus of Vilnius
The roll-up, as you can guess, is a kind of winder for a picture. The roll-up consists of a canvas that wraps around an aluminum drum. So just unroll the canvas, fix the top on a metal rod, delivered with, and your roll-up is ready for use. On The Jesus Mercy of Krakow in Roll-up I> U> we have put several images that allow to understand its operation and ease of transport. We see immediately the interest of such a process for a preacher for example: in 2 minutes the icon of Jesus Mercy is exposed to the eyes of all.
This religious object represents the icon of Jesus Mercy that Our Lord Himself showed to Sister Faustina on February 22, 1931. That evening, St. Faustina saw Jesus wearing a white tunic: the right hand was raised to bless and the left showed his heart from which came two beams of light, one white and one red. Some moments after Jesus told him to paint a canvas according to the pattern you see by adding down the sentence "Jesus I trust you". And our Lord adds, "I promise that the soul that will honor this painting will not be lost." He also asks that this painting be blessed on Sunday after Easter and that this day become the feast of Mercy. Jesus desires priests to proclaim His great mercy to sinful souls.
Sister Faustina, at first, tries to evade this request of Jesus. Our Lord puts before her the very serious consequences of this refusal: "You will have to give an account to God in the day of the judgment of a great number of souls". Finally she tells her director of conscience who addresses the painter Eugène Kazimirowski who goes to work in 1933 scrupulously following the indications of Sister Faustine. The painting is completed in 1934 and this icon is exposed to public veneration in 1935. This religious painting is currently in the shrine of Divine Mercy in Vilnius, Lithuania.

For descriptions of other religious objects dedicated to Jesus Mercy we have put additional information that explains a little this devotion, its history. These religious products have been gathered on this page: Jesus-Mercy of St. Faustina I> U> .
Data sheet Roll-up of the icon of Merciful Jesus of Vilnius
Name of the product

Roll-up of the icon of Merciful Jesus of Vilnius

Dimension

200 cm x 100 cm
Reviews
(0)

Roll-up of the icon of Merciful Jesus of Vilnius

No customer reviews for the moment.
In the same category
16 other products seleted for you