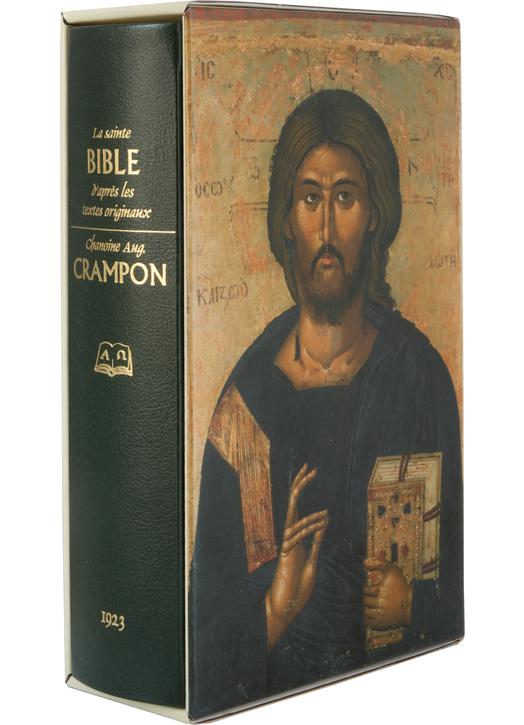 La Sainte Bible d'après les textes originaux (Crampon)
Description La Sainte Bible d'après les textes originaux (Crampon)
L'abbé Augustin Crampon, né le 4 février 1826 à Franvillers dans la Somme (France) et mort le 14 août 1894 à Paris, est un prêtre catholique français, chanoine de la cathédrale d'Amiens, traducteur et exégète catholique de la Bible. Sa traduction française de l'ensemble des livres canoniques de la Bible - la « Bible Crampon » - faite à partir des textes hébreux, araméens et grecs, sortit de presse en 1904.
"À l'occasion de la 5ème réédition de cette Bible dans son édition 1923, une nouvelle jeunesse a été donnée à la présentation avec un texte entièrement recomposé pour une clarté et une lisibilité accrues. Ce qui a fait son succès jusqu'alors a été rigoureusement conservé : la traduction première non travestie de cette oeuvre publiée à l'origine en 7 tomes latin - français (1894-1904), simplement améliorée par les responsables de l'édition de 1923. L'édition compacte en un volume publiée chez Desclée en 1904 eut un succès considérable dans tout le monde catholique durant la première moitié du XXe siècle, avant qu'elle ne soit remplacée par des Bibles au goût du jour, dans les années 1950, avec des traductions peu fiables.
Dans cette nouvelle édition, une longue préface (30 p.) rédigée par le chanoine Crampon peu de temps avant son décès (1894) nous donne toutes les précisions sur le sens de son travail et de sa traduction.
La traduction du chanoine Crampon est claire, orthodoxe, et d'autant plus dépourvue d'équivoques que des notes explicatives dissipent les éventuelles ambiguïtés. Le lecteur pourra donc se fier à sa Bible Crampon, tout en sachant qu'il est tenu, pour l'interprétation de la sainte Ecriture, de s'en remettre à l'enseigment de l'Eglise.
Très belle réédition de la Bible complète, Ancien et Nouveau Testament, avec quatorze cartes.
Volume relié fibres de cuir vert foncé avec tranche file et signet or. Deux tableaux de Gustave Doré en pages de garde.
Édition de 1923, imprimatur 1930, avec les éloges du Cardinal Dubois.
La préface pour cette réédition a été écrite par Daniel Raffard de Brienne (août 1989). Étui en couleurs.
Data sheet La Sainte Bible d'après les textes originaux (Crampon)
Author

Chanoine Augustin Crampon

Name of the product

La Sainte Bible d'après les textes originaux (Crampon)

Dimension

2032 pages - 13 x 22 cm
Reviews
(0)

La Sainte Bible d'après les textes originaux (Crampon)

No customer reviews for the moment.
In the same category
14 other products seleted for you