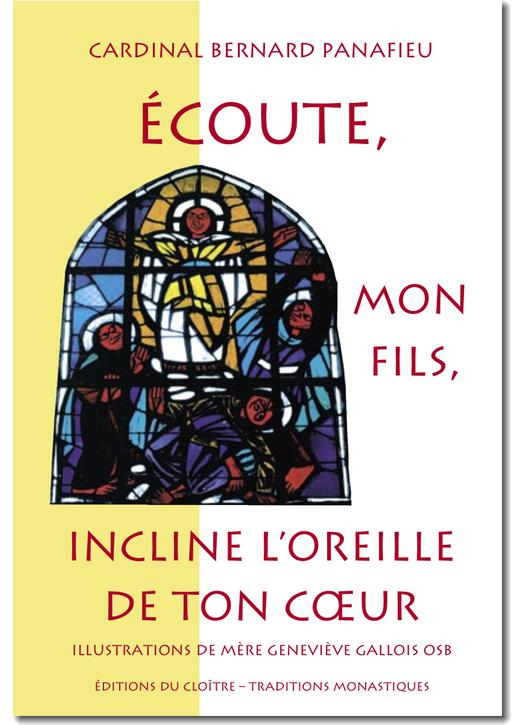 'Écoute, mon Fils, incline l\'oreille de ton cœur'
Description 'Écoute, mon Fils, incline l\'oreille de ton cœur'
La vie monastique est-elle prophétique de ce que doit être toute vie chrétienne ?
Ces quelques réflexions, adressées d'abord à des moines et des moniales et illustrées par les dessins de Mère Geneviève Gallois, moniale bénédictine, peuvent nourrir aussi des vies de baptisés laïcs et creuser en tout chrétien le désir du silence intérieur qui permet à Dieu de s'imprimer en eux au point de faire de chacun, quel que soit son état de vie, une icône du Christ en sa Passion et sa Résurrection.

Sommaire
Présentation de Mère Geneviève Gallois
Ce n'est pas seulement de pain que vit l'homme, mais de toute Parole qui sort de la bouche de Dieu. (Dt 8/3)
Psaume 142 - La Vie éternelle, c'est qu'ils te connaissent Toi et celui que tu as envoyé. (Jn 17/3)
Psaume 15 - Et vous, qui dites-vous que je suis ? (Mc 8/29)
Psaume 17 - Tu sauves le peuple des humbles. (Ps 17)
Psaume 21 - Tu seras ma louange dans la grande assemblée. (Ps 21)
Psaume 25 - Ne savez-vous pas que vous êtes le temple de Dieu et que l'esprit habite en vous ? (I Co 3/16)
Psaume 29 - Si tu savais le don de Dieu… (Jn 4/10)
Psaume 61 - Notre cœur n'était-il pas tout brûlant tandis qu'Il nous parlait en chemin ? (Lc 24/32)
Psaume 62 - je suis la vigne, vous êtes les sarments. (Jn 15/5)
Psaume 70 - jésus passait à travers villes et villages proclamant la Bonne Nouvelle du règne de Dieu. Les Douze l'accompagnaient, ainsi que des femmes qu'Il avait délivrées d'esprits mauvais. (Lc 8/1-2)
Psaume 88 - L'amour du Seigneur sans fin je le chante. (Ps 88)
Psaume 130 - Aujourd'hui si vous entendez sa voix n'endurcissez pas vos cœurs. (Ps 94)
Psaume 102 - je vais la séduire, la conduire au désert et parler à son cœur. (Os 2/16)
Psaume 114 - Zachée, je veux aujourd'hui descendre chez toi. (Lc 19/5)
Psaume 118 (IV) - Et ils le reconnurent à la fraction du pain . (Lc 24/31)
Psaume 118 (XIV) - Voici la servante du Seigneur, qu'il me soit fait selon ta Parole. (Lc 1/38)
Psaume 118 (XX) - Comme le Père m'a aimé, moi aussi je vous ai aimés. Demeurez dans mon amour. (Jn 15/9)
Psaume 120 - Voyant qu'il était déjà mort, un des soldats lui perça le côté et il en sortit du sang et de l'eau. (Jn 19/34)
Psaume 121 - Quelle joie quand on m'a dit : j'irai à la maison du Seigneur. (Ps 121)
Psaume 129 - ne t'ai-je pas dit que si tu crois tu verras la gloire de Dieu ? (Jn 11/40)
Psaume 9 - Le Fils de l'homme est venu chercher et sauver ce qui était perdu. (Lc 19/10)
Psaume 136 - Venez à moi. Ecoutez et vous vivrez. Je ferai avec vous une Alliance éternelle. (Is 55/3)
Psaume 95 - C'est la paix que je vous laisse c'est ma paix que je vous donne. (Jn 14/27)
Psaume 1 - Venez et voyez. Et ils demeurèrent avec Lui, ce jour-là. (Jn 1/38)
Psaume 146 - La mort étant venue par un homme, c'est par un homme aussi que vient la Résurrection. (I Co 15/21)
Psaume 66
Table des illustrations de Mère Geneviève Gallois

A propos de l'auteur : (indiquer la ville où habite l'auteur)
Né en 1931, le Cardinal Bernard Panafieu a été nommé successivement évêque auxiliaire d'Annecy, archevêque d'Aix-en-Provence et archevêque métropolitain de Marseille. Le Pape Jean-Paul II l'a créé Cardinal en 2003. Très proche de la famille bénédictine, il nous livre ici des homélies adressées à des moines et à des moniales au cours de diverses cérémonies liturgiques.
Data sheet 'Écoute, mon Fils, incline l\'oreille de ton cœur'
Author

Cardinal Bernard Panafieu

Name of the product

Écoute, mon Fils, incline l'oreille de ton cœur

Editor

Traditions Monastiques / Éditions du Cloître

Dimension

140 x 210 mm ; 160 pages
Reviews
(0)

'Écoute, mon Fils, incline l\'oreille de ton cœur'

No customer reviews for the moment.
In the same category
16 other products seleted for you