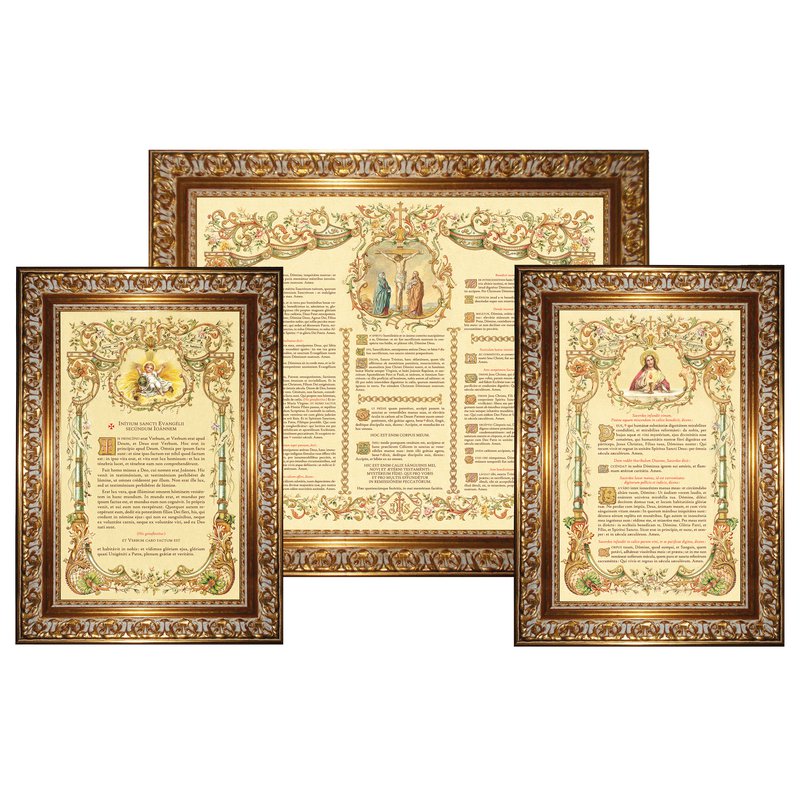 "Gold" model altar cards with large moulding
Description "Gold" model altar cards with large moulding
The centre altar card contains the following texts :
Aufer a nobis,
Oramus Te,
Gloria,
Munda Cor meum... et Jube, Domine, benedicere. Dominus sit in corde meo...,
the benediction prayers of incense
Credo,
Offertory Prayers,
The Words of Consecration,
Prayers before Holy Communion,
Haec Commictio… Prayer recited when the priest, after breaking the sacred Host, drops a particle of the Host into the chalice.
Placeat Sancta Trinitas,
The left altar card when facing the altar (on the Gospel side) contains the beginning of the "Last Gospel", the Prologue of Saint John.
The right altar card facing the altar (on the Epistle side) contains three texts :
the prayers recited by the priest when he is blessing the water, from which a drop is put into the chalice before offering the wine,
The psalm Lavabo inter innocentes manus meas....
Corpus tuum... (prayer during ablutions).

This more complete model is suitable for solemn Mass.

The Micro-composition was entirely made by the monks from originals belonging to the Abbey. Special attention was given legibility. Moreover, the monks work also on assembling each board in its frame.
These frames, in solid wood, are extremely light. The pigmented inks used for printing are extremely resistant to daylight. The printed surface is cold-coated with a thin transparent and non-reflecting layer of plastic.

Offered with each set, pasted on cardboard, are: the text of prayers recited by the priest when putting on liturgical vestments.

Data sheet "Gold" model altar cards with large moulding
Name of the product

Altar cards "Golden" with broad moulding

Central pannel

56,2 x 47,5 cm

Lateral pannels

42 x 30,5 cm

Material

gold-painted wooden frame (width of molding: 5 cm)
Reviews
(1)

"Gold" model altar cards with large moulding
Amy Perusse




janv. 18, 2020




Exceeded Our Expectations!

The altar cards are exactly as described. The quality of the printing and framing is outstanding. We gave these to our parish priest as a gift and he was ecstatic and loved the quality. We highly recommend the altar cards!
In the same category
16 other products seleted for you