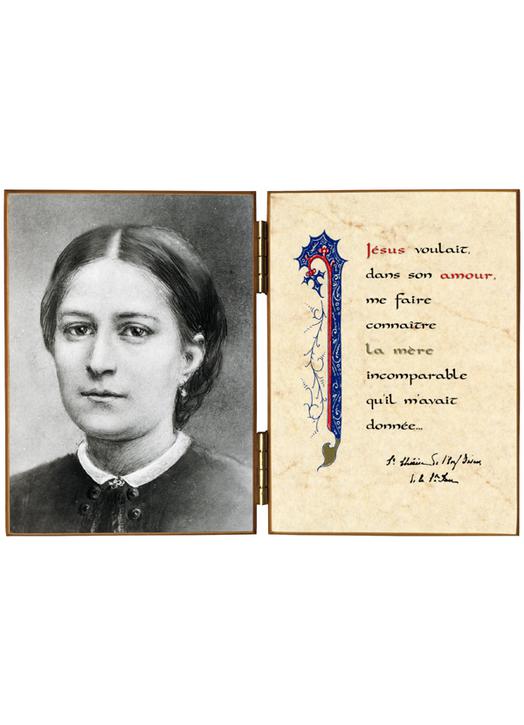 Diptych Saint Zélie Martin and a quotation "Mère incomparable"
Description Diptych Saint Zélie Martin and a quotation "Mère incomparable"
This diptych represents on the left panel Saint Zélie Martin, the mother of Saint Thérèse of the Child Jesus; this drawing was made in charcoal by Céline. Mrs. Martin was born on December 23, 1831 in Saint-Deni-Sur-Sarthon in the Orne. His father is a soldier. In her family faith is in great honour, But Zélie did not have a very happy or fulfilled childhood because of the rigid moralism of her mother. She could have become an anguished young woman, withdrawn into herself, but her life of piety and the good education received from the Ladies of Perpetual Adoration preserved her. Feeling called to religious life, she asked to become a Daughters of Charity, but the superior did not believe in her vocation. Suddenly, despite the harsh disappointment, she launched into a craft making lace Alençon's stitch. She excelled there and created a small business that flourished beautifully.
At the age of 20 she was of a lively and cultivated spirit, of very high practical sense and of great character, above all of fearless faith, she was a superior woman.
It is on a bridge that Zélie comes across Louis Martin for the first time. Not only does her beautiful appearance impress her deeply, but also an inner voice confirms to her: "This is the one I prepared for you. Such an enlightening grace supposes in Zélie a heart usually available to listen to the voice of the Spirit.
The marriage took place on July 13, 1858. At first the new spouses thought they were living as a brother and sister. But their confessor invites them to end their continence and encourages them to have children. Quickly she realizes that she is made to have children; she does not repent of having married while retaining a high regard for religious life. She will live only for her children whom she educates for Heaven, our true homeland; each birth is welcomed with joy as a gift from God. She will have nine children but four will die in infancy. The other test is his third daughter Léonie who escapes her, over which she has no control, and who lives a little away from the family. It is only after the death of Zélie that the "case" Léonie will be resolved by the discovery of this point: the harmful influence of the maid who thought she was doing well.
Zélie, strong in the memory of her depressing childhood, she is keen to create a warm and joyful family atmosphere where love reigns. Which she does admirably with the help of her husband.
But the ordeal joins her with breast cancer which leads her prematurely to the grave; after terrible suffering, she died on the night of August 27 to 28, 1878. These last written words had been: "If the Blessed Virgin does not cure me, it is because my time is done and the good Lord wants me to rests elsewhere than on earth ... "

The quotation in the right panel comes from manuscript A of Saint Teresa of the Child Jesus; here is the sentence in the context:
"In the history of my soul until I entered Carmel I distinguish three very distinct periods; the first despite its short duration is not the least fertile in memories; it extends from the awakening of my reason to the departure of our dear Mother for the fatherland of Heaven.
The good Lord gave me the grace to open my intelligence very early and to engrave so deeply in my memory the memories of my childhood that it seems to me that the things that I am going to tell happened yesterday. No doubt, Jesus wanted, in his love, to make known to me the incomparable Mother whom he had given me , but whom his Divine hand was in a hurry to crown in Heaven! ... »

Quotation :

Jésus voulait, dans son amour,
me faire connaître
la mère incomparable
qu'il m'avait donnée...

Sr Thérèse de l'Enfant Jésus
et de la Sainte Face
Data sheet Diptych Saint Zélie Martin and a quotation "Mère incomparable"
Name of the product

Diptych Saint Zélie Martin and a quotation "Mère incomparable"

Dimension

open : 22 cm x 15 cm closed : 10,7 cm x 15 cm

Manufacturer

Traditions Monastiques (FRANCE)

Right pannel

Quotation from Saint Therese of the Child Jesus "Mère incomparable"

Left pannel

Sainte Zélie Martin (1831-1877) Mother of Ste Thérèse de Lisieux

Material

wild cherry wood
You might also like Diptych Saint Zélie Martin and a quotation "Mère incomparable"
2 other products seleted for you
Reviews
(0)

Diptych Saint Zélie Martin and a quotation "Mère incomparable"

No customer reviews for the moment.
In the same category
16 other products seleted for you