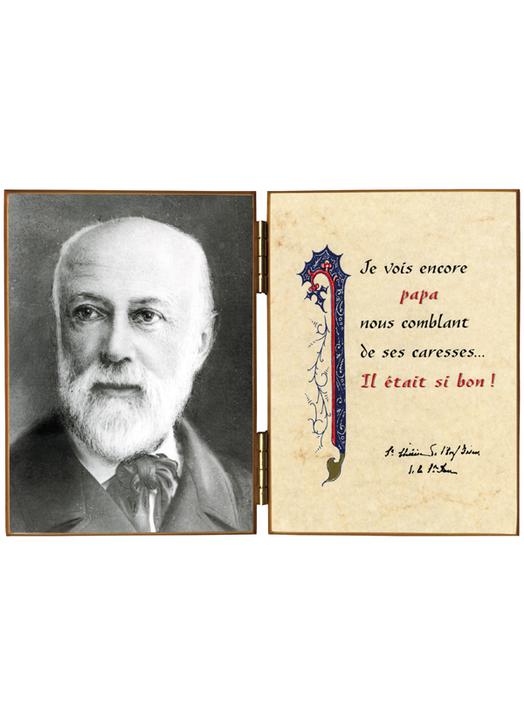 Diptych saint Louis Martin and the quotation "Je vois encore Papa"
Description Diptych saint Louis Martin and the quotation "Je vois encore Papa"
The left panel of this religious diptychs represent Saint Louis Martin, the very Father of Theresa of the Child Jesus.
Louis Martin was born on August 22, 1823 in Bordeaux. His father was a captain in the French army; he had a deep faith inherited from his mother who was a woman of prayer. Indeed, Louis benefited from a deeply Catholic education. Louis quickly found himself an only child because his four brothers and sisters died in infancy.
At first he thinks he is called to religious life and asks for his admission to the monastery of Grand-Saint-Bernard in Switzerland where the canons of Saint-Augustin live. But having not been to high school, he was refused entry until he learned Latin.
He then went back to his studies as a watchmaker and led an almost monastic life. But his mother Fanny Martin seeks at all costs to marry him and ends up finding the rare pearl: Marie-Adélie Guérin. Mrs. Martin tells to her son the high piety of this girl of 26 years old.
The two young people meet in April 1858; very quickly they love each other and understand that they are made for each other and that God calls them to serve him in marriage. On July 13 the wedding takes place.
It was really a marriage of love, but the trials did not fail. Indeed, because Monsieur Martin was a just man, it was necessary that he was tested:
- he loses 4 young children,
- his wife died in 1878 from a cancer; 'the ordeal is heavy for Mr Martin;
- his daughters leave him one by one to enter to Carmel,
- in 1888, his little queen, as he called the Little Flower, left for Carmel; If Mr. Martin gives thanks to God who called all his daughters to perfect life in Carmel, it was nonetheless an emotional suffering;
- from 1889 begins his way of the cross with an illness which makes him lose his mental faculties; it forces her brother-in-law to lock him down in an asylum for three years.
He left in 1892 because he became unable to walk and there was no longer the risk of running away. His daughter Céline took care of him until his death, which took place on Sunday July 29, 1894. On his mortuary image, his daughters imprinted this word of Jesus: "Shouldn't Christ suffer, and that, by there he entered his glory? "

The quotation in the right panel is taken from a letter from Saint Teresa of the Child Jesus written on December 30, 1889. Saint Teresa of the Child Jesus was going to be 16 years old on the following January 2 and she was still a postulant. His father had suffered the first attacks of his illness, but he had recovered and was still living at home. This letter is addressed to her uncle and aunt Guérin to whom she wishes an happy new year. Obviously she talks about her father and the chalice of bitterness to which Jesus called him to drink. Here is this letter in these essential parts:

"Your Benjamin, in turn, comes to wish you an happy new year! ... As each day has its last hour, each year also sees its last evening, and it is on the evening of this year that I feel inclined to throw a look at the past and the future; considering the time that has just passed, I feel inclined to thank the good Lord, because if his hand presented us with a chalice of bitterness, his divine heart knew how to support us in the trial and he gave us the strength necessary to drink its chalice to the dregs ... For the coming year what does it hold in store for us? ... It is not given to me to penetrate this mystery, but I beg the good Lord to reward a hundredfold my dear parents, for all the kindness so touching that they have for us! ... The first day of the year is for me a world of memories ... I can still see Dad filling us with his caresses ... He was so good! ... But why remember these memories? This darling Father received the reward of his virtues, God sent him a test worthy of him. "

Quotation :

Je vois encore papa
nous comblant de ses caresses...
Il était si bon !

Sr Thérèse de l'Enfant Jésus,
et de la Sainte Face
Data sheet Diptych saint Louis Martin and the quotation "Je vois encore Papa"
Name of the product

Diptych saint Louis Martin and the quotation "Je vois encore Papa"

Dimension

open : 22 cm x 15 cm closed : 10,7 cm x 15 cm

Manufacturer

Traditions Monastiques (FRANCE)

Right pannel

Quotation from Saint Therese of the Child Jesus "Je vois encore Papa"

Left pannel

Saint Louis Martin (1823-1894) Father of St Thérèse de Lisieux

Material

wild cherry wood
You might also like Diptych saint Louis Martin and the quotation "Je vois encore Papa"
1 other product seleted for you
Reviews
(0)

Diptych saint Louis Martin and the quotation "Je vois encore Papa"

No customer reviews for the moment.
In the same category
16 other products seleted for you