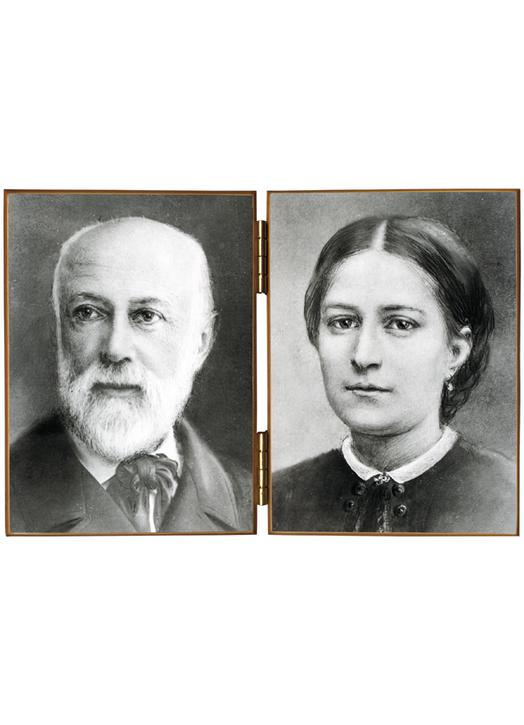 saint Louis and Zélie Martin, parents of Saint Therese of the Child Jesus
Description saint Louis and Zélie Martin, parents of Saint Therese of the Child Jesus
This diptych represents the parents of Saint Thérèse of the Child Jesus, who were canonized together on October 18, 2015.
The holiness of Louis and Zélie Martin is not found in the accomplishment of extraordinary things but in the accomplishment of their duties with the heart turned towards God, seeking in everything God. In their youth they believed themselves each called to religious life. But Providence had other purposes on them. Their path of holiness was in the marriage which took place on July 13, 1858, Louis was aged 35 while Zélie was only 26. To the regret of the consecrated life, they thought to live in marriage as religious. For ten months they live as brother and sister; their mutual affection is increased. And as Zélie wrote "our feelings were always in unison". It is a time of maturation for their couple and for the understanding of their vocation. Little by little, Louis and Zélie discover that marriage, far from being an alternative planned by God after the failure of their consecration project, is their real call, to live fully. When their confessor invites them to end their abstinence, they are ready to accept it. The arrival of the children confirms them again in their vocation: "When we had our children, our ideas changed a little; we lived only for them, it was all our happiness, and we never found it except in them. Finally, nothing cost us any more; the world was no longer our burden."
God directed their desire for holiness towards the form of life most likely to fulfill them: marriage, and in particular the fact of being parents. Louis and Zélie recognize his call to have many children and, according to their beautiful expression, to "raise them to Heaven". Contrary to their first idea, it is not in spite of marriage but in and through marriage that they sanctify themselves.
They had nine children, four of whom died in infancy. Louis and Zélie established a climate of trust, as Céline later confessed: "We obeyed out of love. Confidence was the soul of this education.
Thus the education received by Saint Thérèse of the Child Jesus in her family prepared her to live in trust and love in Carmel.
In a letter dated September 17, 1896 and intended for Sister Marie du Sacré-Coeur, Saint Teresa of the Child Jesus wrote: " how I would like to be able to make you understand what I feel! ... It is trust and nothing but trust that must lead us to Love ... Doesn't fear lead to Justice? "
Data sheet saint Louis and Zélie Martin, parents of Saint Therese of the Child Jesus
Name of the product

Louis and Zélie Martin, parents of Saint Therese of the Child Jesus

Dimension

open : 22 cm x 15 cm closed : 10,7 cm x 15 cm

Manufacturer

Traditions Monastiques (FRANCE)

Right pannel

Mme Martin (1831-1877) Mother of Ste Thérèse de Lisieux

Left pannel

Saint Louis Martin (1823-1894) Father of St Thérèse de Lisieux

Material

wild cherry wood
You might also like saint Louis and Zélie Martin, parents of Saint Therese of the Child Jesus
2 other products seleted for you
Incense burner

Material : varnished brass - Dimension : Height 11,5 cm X width 11,5

Reference: BREN710

(0)

'oil lamp'

Reference: LHB

(0)
Reviews
(0)

saint Louis and Zélie Martin, parents of Saint Therese of the Child Jesus

No customer reviews for the moment.
In the same category
16 other products seleted for you