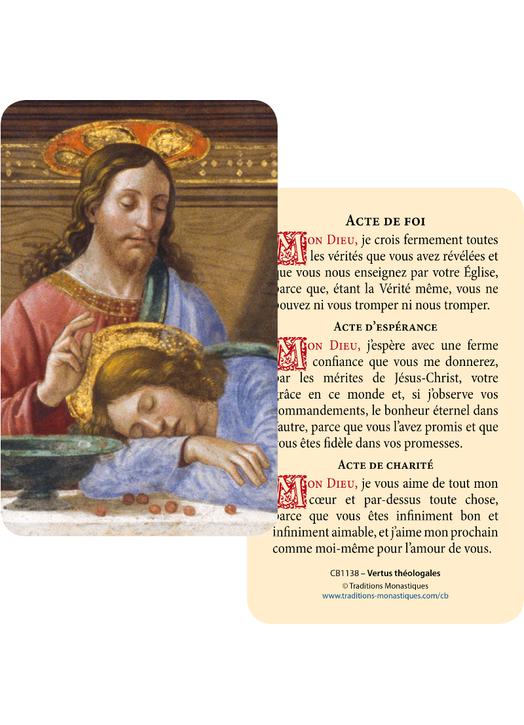 Card-prayer The three theological virtues
Description Card-prayer The three theological virtues
De la taille d'une carte bancaire, cette carte-prière représente Le Christ et saint Jean à la Cène, détail d'une fresque réalisée par Domenico Ghirlandaio vers 1486, (Florence, San Marco, réfectoire de l'Hôtellerie) avec au dos Les actes des troixs vertus théologales :


Acte de foi
Mon Dieu, je crois fermement toutes
les vérités que vous avez révélées
et que vous nous enseignez par votre Église,
parce que, étant la Vérité même,
vous ne pouvez ni vous tromper ni nous tromper.
Acte d'espérance
Mon Dieu, j'espère avec une ferme confiance
que vous me donnerez, par les mérites de Jésus-Christ,
votre grâce en ce monde et, si j'observe vos commandements,
le bonheur éternel dans l'autre,
parce que vous l'avez promis et que vous êtes fidèle dans vos promesses.
Acte de charité
Mon Dieu, je vous aime de tout mon coeur
et par-dessus toute chose,
parce que vous êtes infiniment bon et infiniment aimable,
et j'aime mon prochain comme moi-même pour l'amour de vous.
Data sheet Card-prayer The three theological virtues
Name of the product

Card-prayer The three theological virtues

Editor

Traditions Monastiques

Recto picture

Christ and St. John at the Last Supper (detail)

Verso text

The three theological virtues

Material

Carte pelliculée
Reviews
(0)

Card-prayer The three theological virtues

No customer reviews for the moment.
In the same category
16 other products seleted for you