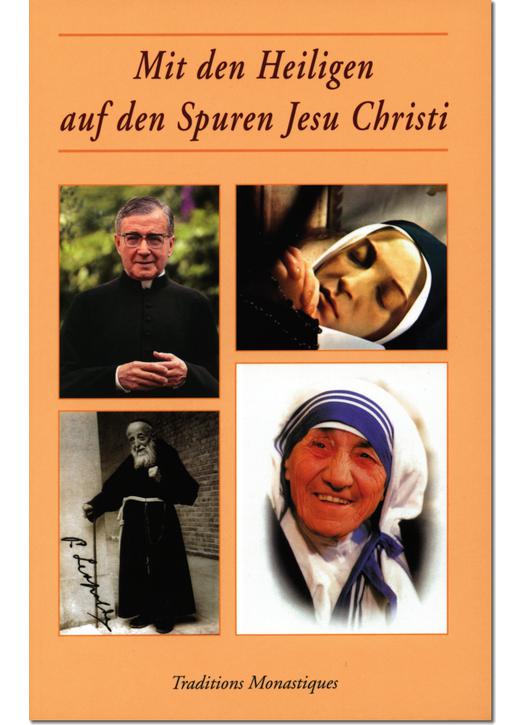 'Mit den Heiligen auf den Spuren Jesu Christi'
Description 'Mit den Heiligen auf den Spuren Jesu Christi'
Dieser Band enthält vierzehn Kurzbiographien von Heiligen bzw. von wichtigen Glaubenszeugen der katholischen Kirche aus "jïngerer Zeit". Diese Biographien sind in den Jahren 1998/1999 von den Benediktiner-mönchen der Abtei Saint-Joseph de Clairval zu Flavigny-sur-Ozerain (Frankreich) unter der Leitung des H.H. Abtes Antoine Marie O.S.B. erarbeitet und in Form von Rundbriefen in sechs verschiedenen Sprachen veröffentlicht worden.

Inhaltsverzeichnis
- Sel. Piergiorgio Frassati, ein junger Zeuge Jesu Christi;
- Hl. Siméon Berneux, ein Märtyrer im Fernen Osten;
- Léonie Martin, eine Schwester der hl. Therese von Lisieux;
- Sel. Friedrich Ozanam, ein "sozial engagierter Christ";
- Hl. Leopold Mandic´, der "kleine" Beichtvater von Padua;
- Hl. Therese der Anden, mit 20 Jahren "reif fïr die Ernte";
- Sel. Mutter Theresa v. Kalkutta, die unermïdliche Nächstenliebe;
- Hl. Bernadette von Lourdes, die Vertraute der Unbefleckten Gottesmutter;
- Prälat Buguet, der Helfer der armen Seelen;
- Hl. Josémaria Escriba de Balaguer, der Grïnder des Opus Dei;
- Hl. Theresia Benedikt vom Kreuze (Edith Stein), Karmelitin und Märtyrerin;
- Sel. Alois Stepinac, ein Kardinal unter kommunistischer Verfolgung;
- Hl. Margarete-Maria, die Seherin von Paray-le-Monial;
- Takashi Nagai, ein "Märtyrer der Nächstenliebe" in Japan.

"Es sind keine gewöhnlichen Heiligenbiografien, noch weniger Heiligenlegenden, die Sie vor sich haben. Jeder Heilige ist mehr als seine Lebensgeschichte; er/sie hat uns etwas zu sagen, ist ein lebendiges Wort an uns. Ein Wort aus dem Evangelium, das "Fleisch angenommen hat. Und dem Biographen gelingt es, die Botschaft des Heiligen an uns verständlich zu machen. Etwa beim hl. Leopold Mandic : an seinem Leben lernen wir die Theologie des Beichtsakramentes" (aus dem Vorwort vom H. Erzbischof von Salzburg Dr. Georg Eder).
Data sheet 'Mit den Heiligen auf den Spuren Jesu Christi'
Name of the product

Mit den Heiligen auf den Spuren Jesu Christi

Editor

Traditions Monastiques

Dimension

208 Seiten - Größe : 20 X 13 cm
Reviews
(0)

'Mit den Heiligen auf den Spuren Jesu Christi'

No customer reviews for the moment.
In the same category
13 other products seleted for you