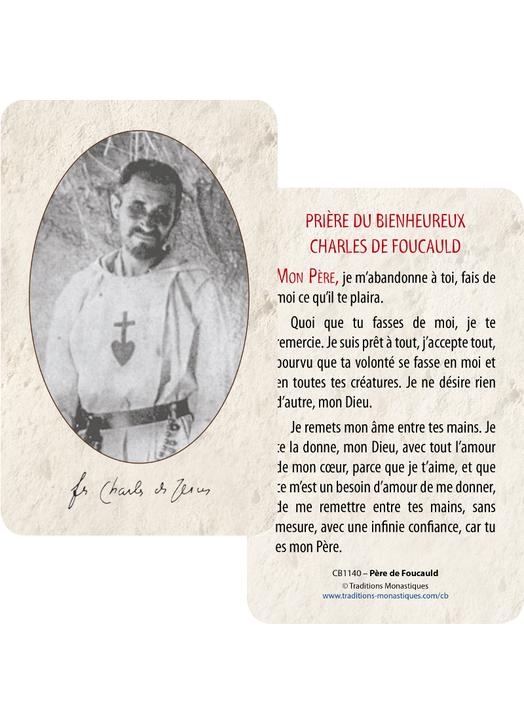 Cartes-prière saint Charles de Foucauld
Description Cartes-prière saint Charles de Foucauld
De la taille d'une carte bancaire, cette carte-prière représente bienheureux Charles de Foucauld avec au dos une prière de ce Bienheureux :


Mon Père, je m'abandonne à toi, fais de moi ce qu'il te plaira.
Quoi que tu fasses de moi, je te remercie. Je suis prêt à tout, j'accepte tout, pourvu que ta volonté se fasse en moi et en toutes tes créatures. Je ne désire rien d'autre, mon Dieu.
Je remets mon âme entre tes mains. Je te la donne, mon Dieu, avec tout l'amour de mon coeur, parce que je t'aime, et que ce m'est un besoin d'amour de me donner, de me remettre entre tes mains, sans mesure, avec une infinie confiance, car tu es mon Père.

Data sheet Cartes-prière saint Charles de Foucauld
Name of the product

Card-prayer of saint Charles de Foucauld

Editor

Traditions Monastiques

Verso text

a prayer of saint Foucauld

Material

Carte pelliculée
Reviews
(0)

Cartes-prière saint Charles de Foucauld

No customer reviews for the moment.
In the same category
16 other products seleted for you